bout the Rackett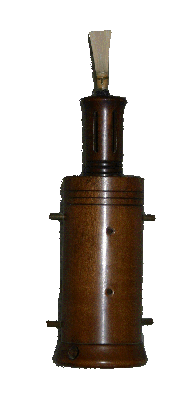 Racketts were double reed instruments of the late Renaissance and early Baroque. They are remarkable for their small size and low register. A tenor rackett is less than a foot tall, and it can play down to C. This feat is accomplished by having a narrow bore, as small as six mm, and by winding the bore around the instrument.
Renaissance racketts, such as the one shown to the right, have the reed mounted at the top of the instrument. They commonly mount the reed in a pirouette which may have been used to help support the lips while playing. Renaissance racketts have cylindrical bores that are divided into nine sections. The first section runs vertically through the center of the instrument. The eight subsequent sections are arranged concentrically around the first section, as is illustrated in the diagram. The end of one section connects to the beginning of the next, forming one long tube. These instruments have twelve fingerholes, which may be covered with the tips and middle joints of the fingers. Hollow brass tubes are connected to some of these holes and extend past the body of the instrument. These are added for ergonomic reasons and make the instrument easier to hold. Praetorius describes four sizes of racketts. Descants, whose lowest note is G, tenors whose lowest note is C, basses whose lowest note is F, and great basses whose lowest note is D or C.
Baroque racketts mount the reed in on bocal, as was done on a bassoon. Although Baroque racketts have cylindrical bores, each bore is slightly larger than the previous one, thus producing a pseudo conical bore. They also arrange the bores differently in the instrument, as is shown in the diagram. The bore terminates in a bell like that of a bassoon.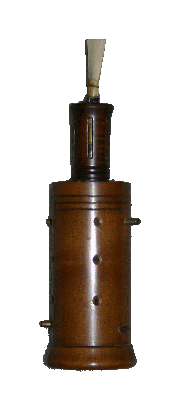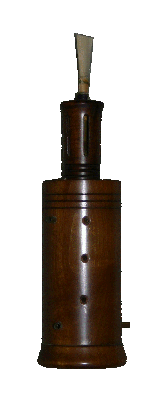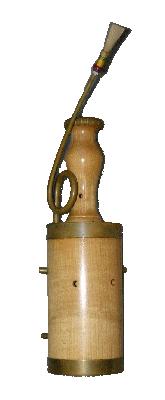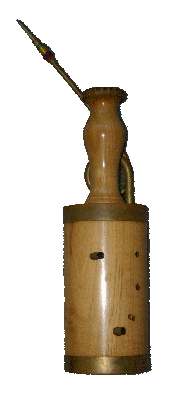 Page Design Copyright 2010 Michael Berger

Clip Art Copyright 2002 Dover Publications