bout the Baroque Trumpet
Despite its name, the baroque trumpet is actually a modern invention. It is similar in design to the trumpets of the eighteenth century, but is manufactured using modern techniques. It also has several holes in the tubing that allow a player to alter the pitch of a note. Such holes were usually not present on trumpets from the eighteenth century.
Eighteenth century trumpets differ from modern ones in several respects. They have a larger bore than modern instruments and their bell does not have as sharp a flare. The most significant difference is the lack of valves on eighteenth century trumpets. Without valves, trumpets are only able to produce notes from the harmonic series. These notes can be altered slightly by changing the buzzing of ones lips, a practice known as lipping. Despite this, it is not possible to play most notes. To rectify this, baroque trumpets have several holes in their tubing which are uncovered to alter the pitch. Another difference between eighteenth century trumpets and modern ones is their mouthpiece. Modern mouthpieces have a rounded rim on which the player places his lips, whereas baroque mouthpieces have a flat rim. Baroque mouthpieces usually have a cup that is roughly in the shape of a half sphere. The cup of a modern mouthpiece is somewhat more conical, like the base of a board game piece. On a modern mouthpiece the cup gradually curves into the bore of the mouthpiece, while a baroque mouthpiece has an angular rim at the base of the cup. Lastly, a baroque mouthpiece has a larger bore than a modern one.

In the renaissance and baroque periods trumpets were made in five sections: two sections of cylindrical tubing called yards, two sections of tubing, known as bows, which are in the shape of the letter u, and the flare at the end of the trumpet called the bell. All of the sections were made from sheets of brass. The sheets that would become the yards and bows were bent into a cylindrical form and the seam was soldered together. The bows were then filled with lead and bent around a post. The purpose of the lead was to prevent the hollow tubing from crimping when it was bent. The sheet that would form the bell of the trumpet was cut to form a specified pattern. It was bent into a roughly conical shape and soldered together. Finally it was hammered on an anvil into the desired shape. Modern manufacturing techniques make it possible to create hollow tubes, thus eliminating the need to solder the yards and bows. The bows are still bent. However, rather than using lead, the tubes are filled with a soapy solution and then frozen. The bells are worked on a lathe rather than being hand hammered.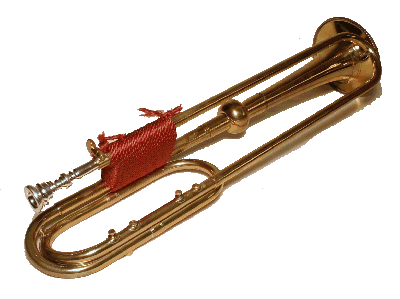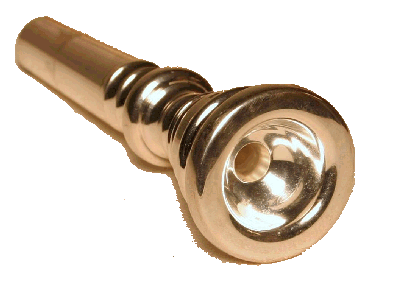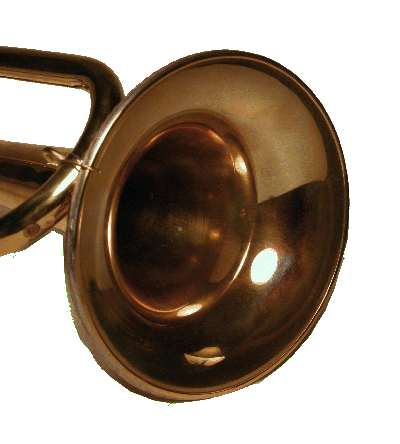 Page Design Copyright 2010 Michael Berger

Clip Art Copyright 2002 Dover Publications